One thing you will find on every French dinner table on Christmas day is Bûche de Noël (Yule log cake). Bûche de Noël is a roll cake filled with a cream, and decorated so that it looks like a wood log. The cake itself must be very soft and the cream inside luscious.
Even though we were not celebrating Christmas in my Muslim home, we would still get a Bûche because my siblings and I would not stop bugging my parents until they got us one.
While they used to be quite heavy when I was a kid, Bûche de Noël has evolved over the years. Traditionally, it used to be made with buttercream. I am personally not a fan of buttercream (sorry). For this reason, I always opted either for a ganache or, like in this recipe, a crémeux.
Crémeux is a bit more complicated to make than ganache but it is less rich and more…creamy as its name suggests. In my opinion, it is totally worth the trouble.
For the sponge cake, I have the perfect recipe. This sponge is super easy to roll. You don't need to use a kitchen towel to roll it in advance while still warm. As a matter of fact, you can even keep it in the fridge and roll it the day after you made it, without any problem! It does not need any baking powder either as the volume of the cake will come from the egg whites whipped to soft peaks. The only thing you need to remember is to cover the cake with saran wrap 10 minutes after it has been out of the oven to retain the humidity of the cake.
Because I wanted to add more texture and crunchiness to the cake, I also added crushed caramelized hazelnuts on top of the crémeux: If you don't feel like caramelizing them, you can add crushed roasted hazelnut instead.
I add chocolate crémeux on top of the sponge once it's rolled. The secret to a smooth cream on top? Cut a band of parchment paper and use it to smooth out the cream. (See in the reel I posted on my Instagram).
Have a lovely time with your family and this Bûche. I am sure you will love it!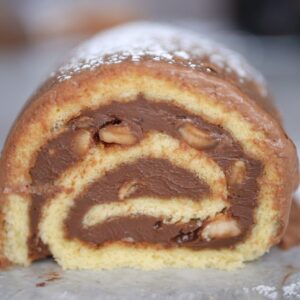 Buche de Noel (Yule log cake)
Ingredients
Chocolate crémeux
250

g

whipping cream

250

g

milk

100

g

egg yolks (6 yolks)

50

g

sugar

280

g

Semi-Sweet chocolate
Roll cake
50

g

egg yolk (3 yolks)

90

g

egg whites (whites from 3 eggs)

3

eggs

100

g

sugar (1)

30

g

sugar (2)

70

g

All purpose flour
Caramelized Hazelnuts
150

g

hazelnuts

80

g

sugar

20

g

water
Instructions
Chocolate crémeux
In a small saucepan, bring milk and whipping cream to a boil. In a small bowl, whisk egg yolks with sugar. Pour a 1/3 of hot milk and whipping cream on egg yolks. Whisk and pour everything back to the saucepan. Cook on low heat while continuously stirring the cream should go from being very liquid, to a thicker, coating texture (see picture below). If you have a thermometer, this should be around a temperature of 82-84°C (179-183F). If you don't have a thermometer, make sure it never boils and if you see any lumps forming; stop immediately before you get an omelet. Pour directly on chocolate, previously chopped into small pieces. Whisk until chocolate is fully melted and integrated. Pour into a large container, cover with saran wrap directly on the cream. Keep in the fridge for at least 3 hours.
Caramelized hazelnuts
Heat up water and sugar in a pan until it starts to bubble. Add your nuts to the pan, lower heat to middle high. From this point on, never stop stirring! In the first few minutes, the sugar will crystallize around the nuts. It's normal. Again, keep stirring. Eventually, all the nuts will be caramelized. Let them cool down at room temperature for 20 minutes before crushing them in a Ziploc. (See the recipe with photos here)
Roll cake
With a hand mixer, whisk egg yolks with 3 eggs and sugar (1)until it becomes pale and thick, for about 5 minutes. This will incorporate air into the batter, making your sponge light and fluffy. Add your flour gently. Whip your egg whites to soft peaks with sugar (2).  Add egg whites very gently to the rest of the egg mixture. You should add them gently as the air in these gg whites is what will make your cake rise in the oven.

Make sure there are no chunks of flour left. Preheat your oven to 220°C (430°F).Bake in a baking pan of around 18x13 inches on greased parchment paper for 12 min. 10 minutes after it is out of the oven, cover with saran wrap to retain humidity.
Assembly
Spread your crémeux on the roll cake. Put crushed hazelnuts on top of the crémeux. Roll the cake. Spread some crémeux directly onto the cake and smooth out with a spatula or with a piece of parchment paper like in the video in my reels. Sprinkle with icing sugar right before serving.