Even if leaves all fallen from trees a long time ago in Calgary it's still fall! During this season I always crave carrot cake, which is why I am sharing my easy recipe here.
If you have been following me for a while now you probably know that I am a huge lover of spice, probably because they are used in almost everything in Comorian cuisine.
That's why I decided to create a carrot cake with my own blend of spices, using only the ones you would traditionally find in a Comorian dish or dessert. Can we call that a Comorian carrot cake then? I am not sure. But I can assure you that this cake is delicious.
One common Comorian spice I added to my carrot cake is coriander seeds. While they come from the coriander plant, they taste very differently from the coriander leaves. They have a very citrusy and nutty flavor. They work in both sweet and savory dishes (coriander seeds in a curry taste amazing). They will certainly give a twist to your traditional carrot cake!
You will find that the frosting is significantly less sweet than usual, for this reason, it is best to keep this cake in the fridge. I used a Saint Honore piping tip for the icing, but feel free to use a spatula to cover your cake.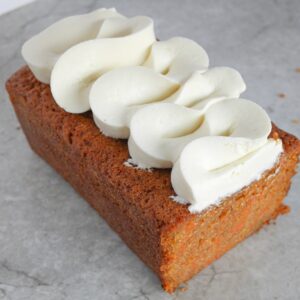 Comorian Carrot Cake
Ingredients
Cake
3

eggs

250

g

brown sugar

30

g

maple syrup

250

g

neutral oil (canola or sunflower)

10

g

baking powder

5

g

baking soda

2

g

Kosher salt or Fleur de sel

1

tsp

coriander grains (grounded)

1/2

tsp

turmeric

1/2

tsp

ginger

1 1/2

tsp

cinnamon

1

tsp

vanilla extract

270

g

flour

300

g

shredded carrots
Frosting
250

g

cream cheese

100

g

whipping cream

110

g

icing sugar

1

tsp

vanilla extract
Instructions
Cake
Mix the dry ingredients in a bowl: flour, spices, baking soda, baking powder and salt. In a separate bowl, whisk the eggs with brown sugar, vanilla extract and maple syrup. Add oil. Add dry ingredients, sifted to your egg mixture. Add the shredded carrots. Pour into a loaf pan up to 2/3 of its height. Bake at 170°C (340°F) for 50 minutes or until the center of the cake is dry when poked with a skewer or a knife. Five minutes after it has been out of the oven, cover the cake with saran wrap, This will trap its humidity and make it super moist! Let it cool down completely before frosting.
Frosting
Whisk your cream cheese (at room temperature) with a hand mixer until smooth. Add cold whipping cream and icing sugar, vanilla extract and whip again until you've reached desired consistency.