Thank you, Life's Simple Ingredient for sponsoring this post!
Growing up in a Muslim household, Christmas traditions were not part of my upbringing. It's only after I started living with my partner, who is from Croatia, that we started implementing some of her holiday traditions in our home. During the holiday season in Croatia, there are always cookies and cake on the table—whether it be Jež (chocolate hedgehog cake), Zvjezdice (similar to Linzer cookies) or Kiflice. You can snack on these cookies at any time of the day with tea or coffee or enjoy them just by themselves. Because we live in Alberta, my mother-in-law would always send us a box full of these cookies from Croatia every year during the holiday season.
Out of all these cookies, my favorite ones are Kiflice.
Kiflice are sugar cookies shaped like crescents, with a bit of nut powder in them. My mother-in-law could not send us cookies this year, so I decided to ask for her recipe and make them myself!  She was happy to give me her recipe, and after a bit of time on calls to understand all the details, I decided to make them myself. I was pleasantly surprised at how easy they are to make. You don't need any kind of machine to do it (all by hand) and only need five ingredients: flour, walnuts, butter, sugar and one egg. Mix everything together, shape them and bake.
The amazing thing about these cookies is that they have a very long shelf life. As long as you keep them in a metallic box, they can stay at room temperature for a few weeks. This means that you can make a big batch of them and keep them around for whenever you feel like enjoying this delicious little festive treat.
One thing I learned is that the tradition asks for everyone in the family, kids included, to join in and help in the kitchen to shape the cookies into crescents. The point is that you should not worry if your Kiflice don't have a perfect shape. What matters most is the time you get to spend with your friends or family making them.
Tips to succeed at Kiflice:
Make sure to use butter that is at room temperature. This will really help you mix the dough easily.
Let your dough rest for at least one hour. Gluten acts as a binder in cookies, giving them the perfect texture: Crunchy on the outside, melting on the inside.  However, after mixing the dough by hand, gluten elasticity is activated. This elasticity is great for bread but not necessarily for cookies. To make our life easier, we want to wait at least an hour before shaping the cookies into crescents. If you let the dough in the fridge for longer than that, make sure you leave the dough out for ten minutes at room temperature before starting to shape your crescents.
How do I know when they are baked? You know that your cookies are baked when their bottoms are brown. If the top of your cookies starts to get brown as well, they will be overbaked and probably a bit too dry (and bitter!).
How long can I keep them on my Christmas table?
As long as they are in a tightly closed box (metallic ones are the best) you will be able to keep them at room temperature for at least 15 days without any problem.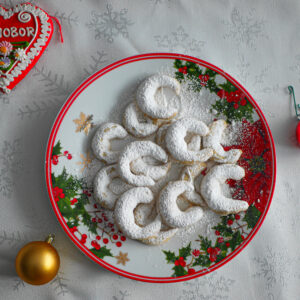 Kiflice (Croatian sugar cookies)
Ingredients
300

g

flour

(2 cups)

90

g

ground walnuts (or hazelnuts)

1 cup

90

g

icing sugar

3/4 cup

200

g

butter

1 cup

1

egg
Instructions
In a bowl, add flour, ground walnuts, and icing sugar. Add your egg and whisk with a fork. Add butter (room temperature), previously cut in small cubes to your bowl. Mix with your hands until everything is perfectly mixed and no flour crumbs remain. Wrap the dough and let it rest in the fridge for about an hour. Take a quarter of the dough and roll it like a sausage. Cut that dough into small bits, 1-inch large ½ an inch thick. Roll each one of them between your hands. Shape them like a crescent.

Put your cookies on a baking tray with a parchment paper. Bake at 340°F (170°C) for 8-10 minutes or until the bottom of the cookies is brown. Let them cool down for 10 minutes before sprinkling them with icing sugar.  Keep them in a box to enjoy when you feel like indulging yourself in these delicious cookies. My favorite way to eat them is with hot chocolate. 🙂