Cherries are by far my favorite summer fruit! Especially the ones from British Columbia which are sweet and full of flavour!
I love them so much that every summer I spend hours pitting them and making jams or puree out of them to make sure I can enjoy them even past the season. I had to make a dessert out of them! This time I did not pair them with anything fancy or out of the ordinary like last year when I made a basil cherry dessert (delicious but quite unconventional). I decided to go with pistachios that go very well with cherries. This tart has multiple layers: a sugar dough tart shell for crunchiness, a pistachio sponge, which brings a soft texture, a cherry confit, pistachio pastry cream and fresh cherries on top.
If you don't have pistachio praline, there is a recipe for making it on this page.
I hope you will enjoy it!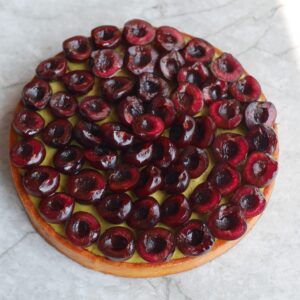 Pistachio and cherry tart
Equipment
Tart ring

whisk

saucepan

hand mixer or stand mixer
Ingredients
Sugar Pie dough (for 2 pies, you can easily freeze the leftover dough for weeks)
230

g

butter

40

g

almond flour

140

g

icing sugar

2

eggs

420

g

flour
Pistachio "cream" (sponge)
50

g

pistachio flour

50

g

butter

50

g

icing sugar

1

egg
Cherry confit
200

g

pitted cherries

10

g

sugar

3

g

pectin

10

g

sugar (for pectin)

1

tbsp

lemon juice
Pistachio pastry cream
350

g

milk

40

g

whipping cream

50

g

pistachio praline

60

g

sugar

20

g

cornstarch

20

g

flour

80

g

egg yolks (4 egg yolks)

120

g

butter
Instructions
Cherry confit
In a saucepan, add the cherries and sugar. Mix them with a hand blender and cook them for 3‑5 minutes at medium fire. Mix together your pectin with 10 g of sugar. This will prevent the formation of lumps in the confit. Remove the saucepan from heat. Add the pectin&sugar mix, add lemon juice and mix well. Put back on heat and cook for 2 more minutes. Keep in a jar in the fridge until use.
Pistachio pastry cream
In a saucepan heat your milk and cream to a boil. In a separate bowl, whisk your egg yolks with sugar, before adding cornstarch and flour. Pour 1/3 of the hot milk in eggs. Whisk well and put back everything to pot with the 2/3 left. Heat everything together while continuously whisking. Whisk for 2 min after it starts to boil , this is to ensure that the eggs and flour are properly cooked. Remove from the heat. Add your butter and pistachio praline and mix with an immersion blender.Transfer in another recipient and protect it with plastic film. Let it cool down in the fridge for at least 2h.
Sugar pie dough
With your Stand mixer bowl, with the flat beater, whisk together almond, butter, icing sugar and salt at low speed. Once homogenous, Add the eggs one by one. Don't worry if there are still lumps they will disappear once we add flour. Add the flour little by little. The dough should NOT be smooth it should still be clumpy. Remove from the bowl and finish smoothing it out by hand. The reason why we are doing this? We want to make sure that we don't overknead our dough. Lots of bakers have trouble with their pie dough retracting when they bake it. It's actually because gluten activate and becomes elastic. If you knead it too long (even with the flat beater!) when baking, the dough will retract. Cover your dough and let it rest for at least 2 hours in the fridge.

You can either line the dough in a regular tart mould or line on a tart ring: Cut out 1/3 of the dough and keep in the fridge Spread the bigger part until desired thickness (for me 2‑3 mm) Cut the dough according to the size of tart ring Transfer the dough on tart ring on your parchment paper Spread the other part of the shortcrust dough until you get a 2‑3 mm thickness Cut into bands that are as large as the height of your ring (mould) Line onto your ring and the other part of the shortcrust. Make sure it is well lined, cut the sticking parts and very important: poke the dough with the fork everywhere. If you are unsure of the technique, Watch my video showing how to line a tart.

Bake in the oven at 170C (340F) for 20 minutes or until light brown
Pistachio "cream" (sponge)
With a stand mixer or a hand mixer, whisk together the butter (room temperature) with the sugar and pistachio flour. When it starts to be somewhat homogeneous, add the egg, previously beaten, little by little, until it all blends in well. When perfectly mixed together, cover with saran wrap. Keep in the fridge until use.
Pistachio cream sponge baking
Remove the tart ring if you have one, add pistachio cream sponge on the tart up to half the height of the tart. Bake for 10 more minutes. Let your tart cool down for at least 30 minutes.
Assembly
Spread a thin layer of cherry confit on top of the pistachio cream sponge. Add the pistachio pastry cream on top. Finish by adding fresh cherries. If you are not sure how to assemble the tart, watch this reel