Chocolate is the ultimate comfort food for me. This cake is the embodiment of what a perfect chocolate cake must be like. It is the perfect balance between sweetness, bitterness and incredible texture.  Whenever I want to make a quick but very good dessert, I go for this recipe that was created by one of the most famous pastry chefs in France: Philippe Conticini. It's super easy, decadent and it's very likely that you have almost all the ingredients at home already.
It's melty in the middle and soft like a cloud outside.

This is the best texture you can imagine for a chocolate cake! Perfect for a day when you need comfort food!
The recipe asks for two types of chocolate; milk and dark. The milk chocolate will add smoothness to the cake, whereas the dark chocolate adds bitterness.
The recipe is easy. The only thing you have to be careful about is the baking time. Every oven is different so make sure to check on your bake. My tip: to make sure your cake is ready, poke a knife in the center: it should come off with some of the batter sticking to it, but it should not be liquid. Once your cake is baked, wait at least 30 minutes before eating it. I know it is difficult, but so worth it. At the end of the recipe you can see what it looks like on my Instagram reel!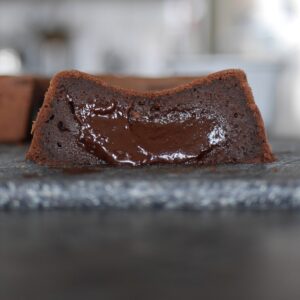 Molten chocolate cake
Ingredients
150

g

dark chocolate 70%

75

g

milk chocolate 40%

170

g

unsalted butter

80

g

brown sugar

4

eggs

70

g

flour

25

g

almond flour
Instructions
Batter
Preheat your oven at 165°C (330F). In a double boiler or in the microwave, melt chocolate with butter. If you do it in the microwave, do it in 30‑second intervals and mix in between to make sure you don't burn it. Start with that because you want your chocolate to cool down a bit before mixing with your eggs. In a separate bowl, whisk together eggs and brown sugar. Add both regular and almond flours, sifted.

Finally, add chocolate and butter mixture into the eggs mixture. Immediately pour into a loaf pan 21cmx11cmx7cm high (8"x4 1/2"x 2 3/4" high) coated with butter and flour (or use a baking spray) to make sure it does not stick to the pan.
Baking
Bake for 25‑30 minutes at 165°C (330°F). Remove from the mould and let it cool down for at least 30 minutes. To make sure that your cake is ready, poke a knife in the center: it should come off with some of the batter sticking to it but it should not be liquid.
Notes
You can find the recipe in video here. Share the results on social media and tag my profile. 
Even though it is really tempting, make sure not to cut it right away! Let it cool down for at least 30 min before you enjoy!
Pay attention to the size of your cake pan. Don't hesitate to change the quantities according to your pan.
I love to eat a slice of that cake with a scoop of vanilla ice cream or a drizzle of caramel!