Believe it or not I never had rhubarb until six years ago! I love this vegetable ( yep, it's not a fruit!) because of its tartness and acidity. I often see people loading their rhubarb jam or puree with tons of sugar to hide the tartness but that's not what I was looking for with this mousse cake. Instead, I counterbalanced the tartness in the confit with a whipped vanilla mousse that would be slightly sweeter. The goal is for your taste buds to be stimulated by both acidity and sweetness!
I decided to go with this French style entremets to combine rhubarb and vanilla. I would say that this cake is probably the best introduction to mousse cake for someone who always wanted to try it, but was scared of it. It is composed of vanilla whipped ganache, rhubarb confit, madeleine sponge, and a spider web mirror glaze.

Except for the mirror glaze (which is optional if you're afraid you won't succeed) every other preparation is easy to do. You need to respect the freezing times, and you will be okay.
You can see the video for the assembly on my instagram reel !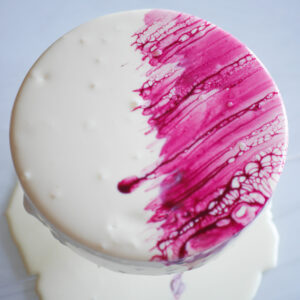 Rhubarb and vanilla mousse cake
Equipment
18 cm large, 5 cm high cake ring or silicone mould

16 cm large and 2 cm high (or higher) cake ring

20 cm large cake pan

hand mixer or stand mixer

saucepan

thermometer

immersion blender
Ingredients
Rhubarb confit
300

g

rhubarb

30

g

sugar

20

g

sugar for pectin

3

g

pectin

1

tbsp

lemon juice
Vanilla whipped ganache
300

g

whipping cream (1)

to heat

450

g

whipping cream (2)

keep in the fridge

7.5

g

gelatin

I use gelatin powder, use the same amount for sheets

45

g

water for gelatin

190

g

white chocolate

1

vanilla pod

1 tsp of vanilla
Madeleine sponge cake
60

g

sugar

40

g

honey

2

eggs

100

g

flour

half

tsp

baking powder

100

g

butter
Mirror glaze
6.5

g

gelatin powder

I use gelatin powder, use the same amount for sheets

39

g

water for gelatin

65

g

water (2)

100

g

sugar

100

g

glucose

or corn syrup

66

g

condensed milk

100

g

white chocolate
Neutral glaze for spider effect
160

g

water

80

g

sugar (1)

5

g

pectin

25

g

sugar(2) for pectin

65

g

dextrose

35

g

glucose

or corn syrup

food safe coloring agent of your choice
Instructions
Rhubarb confit
Peel and wash your rhubarb, then cut it in small pieces. In a saucepan, add the rhubarb and sugar. Mix with a hand blender and cook them for 3‑5 minutes at medium fire. Mix together your pectin with 20 g of sugar. This will prevent the formation of lumps in the confit. Remove the saucepan from heat. Add the pectin&sugar mix, add lemon juice and mix well. Put back on heat and cook for 2 more minutes. Pour onto the 16 cm cake ring filmed with saran wrap. Wait until it cools down before storing in the freezer.
Madeleine sponge cake
With a mixer, whisk the eggs, sugar and honey at high speed until it is blanched.

Add flour and baking powder (sifted) little by little while whisking and finish by adding melted butter.

Bake at 200C (400F) for 15 minutes or until golden brown in a greased cake pan.

Let it cool down, then cut off the border to get a 16 cm large sponge cake (you can use the 16 cm ring to do it). Wrap it with saran wrap and leave in the freezer.
Vanilla whipped ganache
If you use gelatin powder, bloom it with water and let it rest in the fridge for at least 20 min.

Heat up the whipping cream (1) to a boil with one vanilla pod. Let it infuse for 10 minutes

Melt your white chocolate in a double boiler or in the microwave and pour in a large bowl.

Remove the vanilla pod from your whipping cream (1) and heat it up again to a boil. Add gelatin and pour onto the melted white chocolate. Whisk until it becomes homogeneous. Add the cold whipping cream and mix with an immersion blender until it becomes homogeneous. Let it rest in the fridge for 6 hours at least.
Mirror glaze
If you use gelatin powder, bloom it with water and let it rest in the fridge for at least 20 min.

Put water (2), sugar and glucose to heat until it boils to to 103C (217F). This is very important to reach that temperature, you NEED a thermometer.

Pour in a bowl with melted white chocolate, add gelatin then condensed milk. You can also add the food color powder of your choice at this point. Mix with immersion blender. Put a saran wrap on it and keep in the fridge until use.
Neutral glaze
Mix together sugar (2) and pectin in a small cup. In a saucepan heat to a boil sugar (1), water, dextrose and glucose. Add little by little the sugar and pectin mix while boiling. Once all the pectin mix has been added, let it boil for 3 min until everything is dissolved. Transfer your glaze to a bowl and add the food color powder of your choice then mix with immersion blender. For the purple effect that I got, I used a tiny bit of red and a tiny bit of blue food color. Put it aside in the fridge until the day of glazing.
Cake assembly
Whip up the the vanilla ganache to soft peaks. It should not be really tight, it should be whipped just enough to hold by itself.

Use your 18 cm large cake ring or silicon mould (if you use a cake ring then wrap the bottom of it with saran wrap). Put a 1 cm deep amount of vanilla ganache at the bottom and coat the border with vanilla ganache using a spatula.

Put the rhubarb confit on top of the ganache,then add the rest of the ganache on top of the confit.

Put the madeleine sponge on top and push so that the ganache rises up on the periphery. Remove the exceedent and keep in the freezer for at least 6 hours. (see my reel for a video of the assembly).
Glazing the cake
Heat up your mirror glaze to 35C (95F). Mix with immersion blender to make sure it is smooth.

Heat up your neutral glaze to 55C (130F).

Remove the cake from the cake ring. (If it sticks to a metal cake ring, use a blowtorch to make it less cold!).

This is when you have to be fast: First pour the mirror glaze onto the mousse side of the cake. Then pour the neutral glaze along a spatula. Smooth the mirror glaze with the spatula coated with neutral glaze. It's the meeting of these two glazes that will create the spider web effect. See my reel for a video of me glazing.

Place your cake in the fridge to thaw for at least 10h.
Notes
 While it's a good introduction to mousse cake, there are a few things you have to be careful about.
First, take your time, don't try to rush into things, the advantage of this cake is that you can make the confit one day and freeze it, the sponge another day and freeze..etc.
Once the cake is assembled and frozen, if it is wrap in plastic,  you can keep it in the freezer for days before glazing. 
Make sure you respect all the resting times I recommend in this recipe. I know it's tempting to take shortcuts but some creams, mousse, really need time to settle and stabilize.
The temperature indicated are really important. If you don't follow them, none of the glazes will work : You REALLY need a thermometer.
The glaze has to be at a temperature between 30-35C and the neutral glaze at 55C. The mousse cake needs to be frozen solid before you glaze it, otherwise you encounter a disaster.
For this reason, if you never made a mirror glaze before, I recommend you to not make the neutral glaze for the spider web effect seen here but just the mirror glaze. The spider web effect is difficult to do, and requires you to check the temperature of 3 different elements at the same time, which can be quite overwhelming if it's your first time glazing a cake.
You can substitute an ingredient for another, but don't expect everything to work smoothly if you do. The amount of pectin needed for a rhubarb confit is not the same as the amount of pectin needed for, mango for example.
For the glazes you do need glucose, dextrose and so on. If you don't use these ingredients it just won't work.
After glazing, make sure you let the cake thaw in the fridge for at least 8 hours. Fruit confit tend to take a lot of time to thaw.
I know it's a lot of information but if you respect all the steps, take your time and don't take shortcuts it will work, I promise!