Who does not love Crêpes? French people love them so much that they found an opportunity to eat them on a special day. Last week, people in France celebrated "La Chandeleur". What is now a Christian celebration held 40 days after Christmas, was initially a pagan one: festa candelarum, which means Candle party.
That party symbolizes the beginning of longer days as we are starting to get out of winter. Crêpes with their round shape and sunny color are supposed to look like the sun is finally back after long winter.
Nowadays it is more of an excuse to indulge ourselves with something delicious and easy to make while having fun with friends and family.
The recipe for crepes is quite easy: it's all about the order in which you add the ingredients. There are tons of recipes out there but this one is definitely my favorite. They are soft and moist, and there is not a lot of sugar in this recipe as the sweetness will come from the toppings you will add to them.
Popular toppings would be jam ( see my apricot jam recipe here), maple syrup,  chocolate spread, caramel or even praline ( see my recipe here).
The key to succeeding in this recipe is to add the flour little by little, sifted, to make sure you do not get any lumps. Same with milk: it is better to add little by little as well.
For a non-dairy version you can easily replace milk with oat milk or soy milk and replace butter with oil and it will work just the same 🙂
You can find a video of the recipe on my Instagram reel here if you are more of a visual person. Have fun!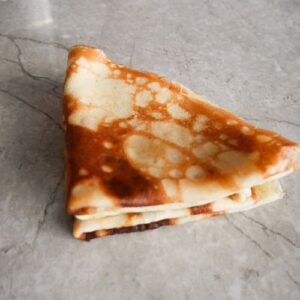 Crêpes recipe
Ingredients
400

mL

Milk

130

g

All purpose flour

(1 cup)

3

eggs

40

g

brown sugar

2 tbsp

2

tsp

vanilla extract (or orange blossom water)

40

g

butter (2 tbsp)
Instructions
Melt your butter and keep it aside. Whisk your eggs with brown sugar. Add your flour, sifted, little by little to your eggs while whisking to avoid lumps. Add melted butter and whisk. Finally, add milk little by little while whisking in between. Finish with the flavoring of your choice (I personally always go for orange blossom water with crêpes!) Cover the batter with a wrap. The most important part of the crêpes process is to let them rest. It will give time to your batter to thicken, making it easier to spread in a pan but also giving time to the orange blossom water or vanilla to infuse. Let the batter rest for at least 30 minutes at room temperature before making your crêpes. You can also leave the batter in the fridge until the next day and make crêpes when you wake up in the morning for brunch. Cook them in a non-stick pan with a bit of neutral oil at medium-high heat.