As we are nearing the end of the summer, I tend to preserve most of my favorite fruits in jam for the rest of the year. Until recently I would only preserve red fruits: cherries, strawberries, raspberries…etc. This year, a friend of mine introduced me to his favorite jam: apricot and vanilla. I got to admit that I don't really like apricots, they are at the bottom of my list of favorite fruits. But this jam is INCREDIBLE! I think it's my favorite of all time. I would choose this one over a raspberry jam any day.  And I don't even like apricots!  But the tartness of apricots combined with the sweetness of vanilla is such a beautiful combination.
What I like about jam is that you don't need the most beautiful fruits, it's one of the best ways to use fruits that are on the decline in a delicious way. It's easy, quick and you can keep them in a jar for a few months.
Traditionally, a jam is made with equal quantities of sugar and fruits (500g of sugar for 500g of apricots ). I prefer to use less sugar than fruit (250g of sugar for 500g of apricots). I don't like jams that are too sweet, I prefer to taste the fruit flavor rather than sugar but it is just my personal preference. The only "problem" with my method, is that using less sugar means that it won't preserve for as long. I recommend you leave it in the fridge and eat it relatively quickly (2-3 months). If you would rather keep it for longer, increase the amount of sugar.
There are many ways to sterilize a jar for your jam. I personally prefer to leave my jar in the oven for 15 min at 100°C (212°F) before pouring my jam into it.
Spread it on a piece of breadand enjoy its deliciousness!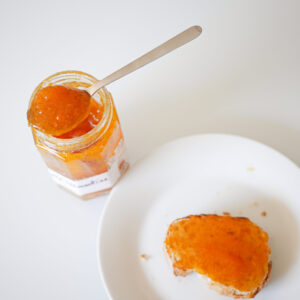 Apricot jam
Equipment
saucepan

jar

immersion blender
Ingredients
500

g

pitted apricots

200

g

sugar (1)

half

pod

vanilla

or 1 tsp of vanilla extract

2.5

g

pectin

(half a teaspoon)

50

g

sugar (2)

1

tbsp

lemon juice
Instructions
Pit the apricots and put them in a large, high saucepan with sugar and vanilla.

Puree them with an immersion blender, bring to a boil and cook at medium heat for at least 5 minutes.

In a cup, mix together sugar (2) and pectin. This will help to prevent the formation of lumps in the jam.

Remove pan from heat. Add the sugar and pectin mix followed by lemon juice. Mix well.

Bring back to heat and cook for 2 more minutes

Pour into a sterilized jar. Let it completely cool down at room temperature. That's it, you got your jam!