French hot chocolate or "chocolat chaud" is a staple in France.
When I was still living in Paris, I would often go to a café during winter and order a chocolat chaud to enjoy by myself. My favorite places to get an exceptional hot chocolate were either the famous Angelina café or another one in a hidden alley close to Saint Michel: La Jacobine. This recipe is my attempt at recreating these hot chocolates that kept me cozy during cold winter nights.
What makes the French hot chocolate so special is how rich and luxurious it is without being too sweet. It only uses two ingredients: milk and chocolate. With these two ingredients, I highly recommend to use the best quality milk (preferentially whole milk) and chocolate you can find. This will truly make a difference.
The amount of chocolate used in this recipe is what make it thick.
Chocolate, contrary to cocoa powder, contains cocoa butter. It is that butter that will make your hot chocolate thicker in consistency without the need to add starch. If you want your chocolate to be thicker, add more chocolate. If you prefer it more liquid, decrease its amount.
Chocolate itself already contains sugar and because this recipe asks for a lot of chocolate, it does not require you to add more sugar. If you have a sweet tooth though, feel free to add more!
Also, the darker the chocolate, the more cocoa butter, and less sugar it will have. When you buy yours, make sure to keep that in mind. I personally choose semi sweet chocolate as it has the perfect balance between sweetness and thickness for me.
You can add spices to your hot chocolate to reach new heights of deliciousness, such as chili pepper or vanilla. I personally like a bit of cinnamon in mine, and a pinch of salt.
If you make too much of it, you can refrigerate it for a couple of days.
You can watch the video of the process on my Instagram reel
Enjoy this hot chocolate topped with whipped cream and Croatian Christmas cookies!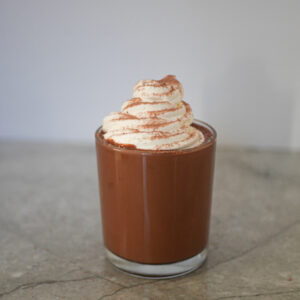 Ingredients
600

ml

milk

225

g

semi-sweet chocolate

1

tsp

cinnamon

(optional)

whipped cream

(optional)
Instructions
Cut your chocolate into small pieces and put it into a bowl. Heat your milk to a boil with 1 tsp of cinnamon and a pinch of salt. Pour just a 1/3 of the milk. Whisk until all the chocolate is melted, then add the rest of the milk and whisk again.

Enjoy hot, or if you want it even thicker just wait a few minutes, as it will thicken over time.