Fraisier (Fraise means strawberry) is probably the most traditional French strawberry cake.
It's eaten on almost any occasion, birthday, wedding…etc. It's my personal favorite French cake because it has all the things I like the most:  fresh fruit and a looots of vanilla cream. In between all those strawberries and cream, two moist sponge cakes.  If I had to describe a fraisier, I would say it's a cake that's soft like a big hug 🙂
There are different recipes for a fraisier. The most traditional one is made with a mousseline cream, which is a combination of pastry cream with butter. To be honest with you, it's not my preference because the butter makes it very heavy for me. I prefer to use a diplomat cream, which is a mix of gelified pastry cream and whipped cream. My whipped cream has also mascarpone in it, which makes the diplomat cream even creamier.
While there are different layers in this cake, it's actually not a difficult one to make. Everything can be done the same day. You can find a reel on my Instagram showing you how to assemble it. Once it's assembled, make sure to let it rest in the fridge for at least 5 hours before cutting into it. Diplomat cream needs time to settle and stabilize to become more solid.
Enjoy this with friends and family with a nice cup of tea or coffee!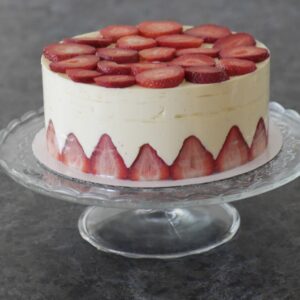 Fraisier (Strawberrry shortcake)
Equipment
18 cm large, 5 cm high cake ring

5 cm high acetate roll (optional)

Hand mixer

saucepan

20 cm large, at least 5 cm high cake pan
Ingredients
Madeleine sponge cake
90

g

sugar

60

g

honey

2

tsp

vanilla extract

(optional)

3

eggs

150

g

flour

half

tsp

baking powder

150

g

butter

(melted)
Pastry cream
670

g

milk

75

g

whipping cream

1

pod

vanilla

(or 1 tsp of vanilla extract)

60

g

cornstarch

135

g

egg yolks

(around 9 egg yolks)

120

g

sugar

15

g

gelatin powder

90

g

water for gelatin

75

g

butter
Mascarpone whipped cream
350

g

whipping cream

at least 33%

200

g

mascarpone

40

g

icing sugar
Instructions
Madeleine sponge cake
With a mixer, whisk the eggs, sugar and honey at high speed until it is blanched. Add flour and baking powder (sifted) little by little while whisking. Finish by adding melted butter.

Bake at 200C (400F) for 20 minutes or until golden brown in a greased cake pan. When you poke a toothpick in it, it should be dry.

Let it cool down, then cut off the border to get a 16 cm large sponge cake (you can use a 16 cm ring to do it). The sponge diameter has to be smaller than the cake ring in which you will assemble the fraisier. Cut the sponge cake in two equal parts vertically so you can get two sponge cakes. Wrap the sponges with saran wrap to make sure it does not dry out before assembly.
Vanilla pastry cream
Bloom the gelatin with water for at least 20 min.

Put the vanilla beans with the empty vanilla pod (it still has a lot of flavor even when it's empty) to the milk and cream in a saucepan, and heat up to a boil. Remove from heat, and cover. Let the vanilla infuse the milk for 10 minutes. In a separate bowl, whisk the egg yolks with sugar, then add cornstarch. Remove the empty vanilla pod. Pour a bit of the infused milk (around 1/3) on the eggs mix. Whisk the eggs with the milk before transferring back into the saucepan with the rest of the milk.Heat everything at medium heat while continuously stirring to thicken the cream. Once it starts boiling, you will have to keep stirring and cooking for 2 more minutes, to make sure the eggs and the cornstarch are well cooked. Remove from the stove, add butter and gelatin and whisk well. Transfer into another recipient and protect with saran wrap directly on the cream. Let it cool down in the fridge for at least 2 hours before using.
Mascarpone whipped cream
Before starting, make sure your mascarpone and your whipping cream are cold. You will whip the cream right before the assembly.

Whip them with icing sugar at medium speed in a bowl with your hand mixer or stand mixer. Do not whip too much, it should be whipped just enough for the cream to hold by itself (soft peaks)
Diplomat cream
Diplomat cream is a mix of pastry cream and whipping cream. Add 1/3 of the mascarpone whipped cream to the pastry cream with a whisk. Add very gently the 2/3 left with a spatula, our goal is not to deflate the whipped cream. Place in a piping bag or freezer bag.
Assembly
Put your cake ring on a cake pad or anything that you will be able to transfer in the fridge after assembly.

If you have acetate roll, roll it inside the 18 cm cake ring, tape it to make sure it does not move during assembly.

Put your 16 cm large sponge in the middle of the ring.

Cut strawberries in half vertically, add halved strawberries all around the ring, inside facing the roll.

Pipe the diplomat cream between the strawberries to make sure there are no gaps in the cake.

Put diplomat cream on top of the sponge cake all the way above the strawberries.

Add freshly cut strawberries in the middle.

Add another layer of diplomat cream.

Add the second sponge cake on top.

Add the last layer of diplomat cream.

Finish with freshly cut strawberries to decorate the top of your cake.

Let the cake rest in the fridge for at least 4 hours. That will allow the cream and gelatin in it to stabilize and become more solid.
Notes
Acetate roll is optional but will make it 100 times easier to remove the cake ring.
Make sure both the pastry cream and the whipped cream are cold when you mix them together. If one of them is hot, you might create lumps when combining them.
Use the freshest and most delicious strawberries you have. Because it has fresh fruits, this is a cake to be eaten as quickly as possible.
You can also make this cake with raspberries, it will work the same.
Strawberries