It's finally fig season again!  One of my favorite fruits!
One year ago on Instagram, I had the opportunity to take over Matt Adlard's stories for a day. For this occasion, I created a tart using seasonal fruit: fig, and a spice I have always loved: cardamom! Cardamom is not overwhelming here, its role is to season the fig just enough to give it an even bolder and more complex flavor. To balance this bold flavor, I added a vanilla whipped ganache and an almond sponge. With this tart, you have the perfect balance between sweetness and boldness.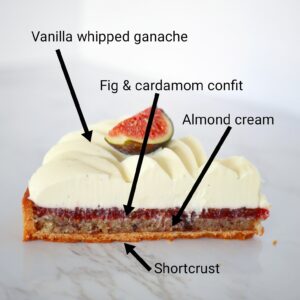 To make sure that everyone could make this recipe, I designed it so you don't need any fancy ingredients (no gelatin needed) nor fancy equipment. All you need is a whisk, a hand mixer, and an immersion blender.
On my Instagram account, you can find all the steps of the recipe on my stories highlights (look for fig tart).
There are a few steps but if you take your time, there is actually nothing really difficult to do here. Keep calm, be patient and you will succeed.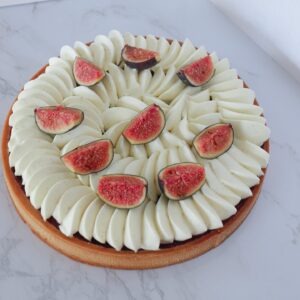 Fig, cardamom and vanilla tart
Equipment
Hand mixer

whisk

immersion blender

20-22 cm Tart ring
Ingredients
Shortcrust dough
270

g

flour

130

g

icing sugar

2

g

salt

(half a teaspoon)

130

g

butter

1

egg
Vanilla whipped ganache
150

g

white chocolate

160

g

whipping cream (1)

(at least 33% fat)

280

g

whipping cream (2)

(at least 33% fat)

half

pod

vanilla

or 1 tsp of vanilla extract
Fig and cardamom confit
300

g

figs

5

pods

of cardamom

or 1 tsp of cardamom powder

30

g

sugar (1)

2

g

pectin

(half a tsp)

10

g

sugar (2)

1

tbsp

lemon juice
Almond "cream" (sponge)
50

g

almond flour

50

g

butter

50

g

icing sugar

1

egg
Instructions
Shortcrust dough
Sift the flour, icing sugar, and salt. Incorporate cold butter with your fingertips until you get a texture that looks like sand.

Make a well and, in the center, add the egg previously beaten. Incorporate it to the dough by kneading lightly.

Keep kneading (5-6 times max in total) until the egg is well incorporated. Cover with saran wrap and keep in the fridge for at least 2 hours.

You can find a video of this recipe in my reel.
Vanilla whipped ganache
Heat up the whipping cream (1) to a boil with one vanilla pod. Let it infuse for 10 minutes. Melt your white chocolate in a double boiler or in the microwave and pour in a large bowl. Remove the vanilla pod from your whipping cream (1) and heat it up again to a boil. Pour onto the melted white chocolate. Whisk until it becomes homogeneous. Add the cold whipping cream (2) and mix with an immersion blender until it becomes homogeneous. Let it rest in the fridge for 6 hours at least.
Fig and cardamom confit
In a saucepan, add the figs and sugar (1). Mix them with a hand blender and cook them for 3‑5 minutes at medium fire. Mix together your pectin with 10 g of sugar (2). This will prevent the formation of lumps in the confit. Remove the saucepan from heat. Add the pectin&sugar mix, add lemon juice and mix well. Put back on heat and cook for 2 more minutes. Keep in a jar in the fridge until use.
Almond "cream" (sponge)
With a stand mixer or a hand mixer, whisk together the butter (room temperature) with the sugar and almond powder. When it starts to be homogeneous, add the egg, previously beaten, little by little, until it all blends in well. When perfectly mixed together, cover with saran wrap. Keep in the fridge until use.
Lining the dough to the tart ring.
You can either line the dough in a regular tart mould or line on a tart ring: cut out 1/3 of the dough and keep in the fridge. Spread the bigger part until you reach desired thickness (for me it's 2‑3 mm). Cut the dough according to the size of your tart ring. Place your tart ring on parchment paper before transferring the dough on tart ring. Spread the other part of the shortcrust dough until you get a 2‑3 mm thickness. Cut into bands that are as large as the height of your ring (mould). Line onto your ring and the other part of the shortcrust. Make sure it is well lined, cutting the sticking parts. And very important: poke the dough with the fork everywhere. If you are unsure of the technique, Watch my video showing how to line a tart.
Baking and assembly
Bake your tart in the oven at 170C (340F) for 20 minutes or until light brown.

Remove the tart ring if you have one, add almond cream on the tart up to 1/3 of the height of the tart. Bake for 10 more minutes. Let your tart cool down for at least 30 minutes.

Spread a layer of fig confit on top of the almond cream up to the height of the tart.

Remove your vanilla ganache from the fridge and whip it until it gets firm enough so you can pipe it (careful not to overwhip).

Put the whipped ganache in a piping bag with a tip. I used a Saint Honore tip but you can use the one you prefer (or none at all).

Pipe on top on the fig confit.

Add a few fresh figs here and there and voila!
Notes
You will probably have too much fig confit on your hand. You can keep it in the fridge for a week or spread it on a piece of bread.
You can freeze the pie dough leftovers indefinitely.