It's finally summer! One of my favorite summer fruits are raspberries. Their sweet acidity really complements the sweetness of almond vanilla.

I don't know a single person who does not like this pairing. This tart has always been a hit every place I brought it to.
The decoration of this tart, especially the filling of raspberries with raspberries confit has been inspired to me by a famous French pastry chef Benoit Couvrand, working for Cyril Lignac. From bottom to top, you have a pie dough, a baked almond cream, a vanilla pastry cream and raspberries filled with raspberry confit.
Trust me, it's not very difficult, it takes time and preparation. Once you try this tart it will surely become a staple of your desserts!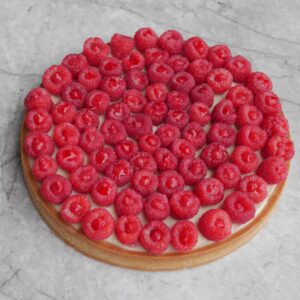 Vanilla and raspberry tart
Equipment
Tart ring

Hand blender

Stand mixer (optional)
Ingredients
Raspberry confit
200

g

raspberries

30

g

sugar

4

g

pectin

10

g

sugar

(for pectin)

1

tbsp

lemon juice
Vanilla pastry cream
450

g

milk

50

g

whipping cream

(30% min)

80

g

sugar

5

egg yolks

45

g

flour

80

g

butter

half

pod

vanilla bean

or 1 tsp of vanilla extract
Sugar pie dough (for 2 pies)
230

g

butter

(room temperature)

40

g

almond powder

140

g

icing sugar

2

eggs

(room temperature)

1

pinch

salt

420

g

flour
Almond cream
50

g

almond flour

1

egg

50

g

sugar

50

g

butter
Instructions
Vanilla pastry cream
Put the vanilla beans with the empty vanilla pod (it still has a lot of flavor even when it's empty) to the milk and cream in a saucepan, and heat up to a boil. Remove from heat, and cover. Let the vanilla infuse the milk for 10 minutes.

In a separate bowl, whisk the egg yolks with sugar, then add flour.

Remove the empty vanilla pod. Pour a bit of the infused milk (around 1/3) on the eggs mix. Whisk the eggs with the milk before transferring back into the saucepan with the rest of the milk.

Heat everything at medium heat while continuously stirring to thicken the cream. Once it starts boiling, you will have to keep stirring and cooking for 2 more minutes, to make sure the eggs and the flour are well cooked. Remove from the stove, add the butter and whisk well.

Transfer into another recipient and protect with saran wrap directly on the cream. Let it cool down in the fridge for at least 2 hours before using.
Raspberry confit
In a saucepan, add the raspberries and the sugar. Mix them with a hand blender and cook them for 3‑5 minutes at medium heat. Add the pectin&sugar mix along with the lemon juice, and cook for 2 more minutes. Keep in a jar in the fridge until use.
Almond cream
With a stand mixer or a hand mixer, whisk together the butter (room temperature) with the sugar and almond powder. When it starts to be somewhat homogeneous, add the egg, previously beaten, little by little, until it all blends in well. When perfectly mixed together, cover with saran wrap. Keep in the fridge until use.
Sugar pie dough
Use the flat beater with your stand mixer bowl to whisk together almond, butter, icing sugar and salt at low speed. Once homogeneous, add the eggs one by one. Don't worry if there are still lumps. They will disappear once we add flour. Add the flour little by little. The dough should NOT be smooth, it should still be clumpy. Remove from the bowl and finish smoothing it out by hand. The reason why we are doing this? We want to make sure that we don't overknead our dough. Lots of bakers have trouble with their pie dough retracting when they bake it. It's actually because gluten activates and becomes elastic. If you knead the dough for too long (even with the flat beater!), it can retract during baking. Cover your dough and let it rest for at least 2 hours in the fridge.

You can either line the dough in a regular tart mould or line on a tart ring: cut out 1/3 of the dough and keep in the fridge. Spread the bigger part until you reach desired thickness (for me it's 2‑3 mm). Cut the dough according to the size of your tart ring. Place your tart ring on parchment paper before transferring the dough on tart ring. Spread the other part of the shortcrust dough until you get a 2‑3 mm thickness. Cut into bands that are as large as the height of your ring (mould). Line onto your ring and the other part of the shortcrust. Make sure it is well lined, cutting the sticking parts. Andd very important: poke the dough with the fork everywhere. If you are unsure of the technique, Watch my video showing how to line a tart.

Bake in the oven at 170C (340F) for 20 minutes or until light brown

Remove the tart ring if you have one, add almond cream on the tart up to half the height of the tart. Bake for 10 more minutes. Let your tart cool down for at least 30 minutes
Assembly
Add the vanilla pastry cream evenly on the tart

Put the raspberries upside down on the tart and fill them with raspberry confit.
Notes
Make your life easier by planning ahead and prepare the pastry cream, the raspberry confit and the pie dough the day before as they need to rest. If you make this recipe, don't forget to tag me on Instagram