If you like to bake on a regular basis, you might have attempted, or at least thought about, making croissants at home.
The idea of making croissants can be stressful and overwhelming and for a good reason, there are a lot of steps involved in doing them!
If you have already made croissants before, you know the drill and chances are, even though you have tried different recipes, you probably never got the result that you were looking for, and started to get frustrated.
So much so that you started to give up on the idea and thought that only professional bakers can do it.
Eight years ago, when I started making croissants, I was in the same boat. I made my first batch of croissants and the result was very disappointing. These are my first croissants: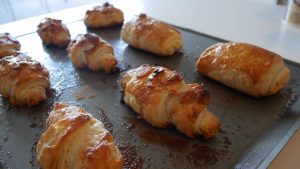 But because I am a scientist, I treated this as a Research and development croissant project: I made hundreds of batches of croissants and documented every one of my failures but also successes. My goal was to reproduce the same buttery and flaky croissant I grew up with in Paris and when I am failing, why is it? That's when I realized that the key to making great croissants is to understand (the science of) the ingredients you are using and how they interact with each other.
Evetually, after years or researching and testing, I was able to get to this result: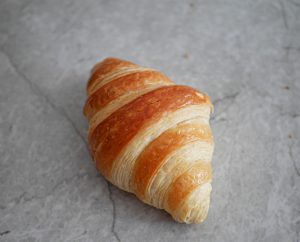 And you can do too!
What I offer in this course, is to benefit from all the knowledge I have accumulated over the years failing, succeeding and learning from the best pastry chefs in the world. My goal is for you to undergo the same transformation I had but instead of it taking you years, it will take you just a few weeks !
In my videos, I will explain in detail what I do, and why I do it.  You will get the perfect croissant recipe, explaining how the ingredients work together and the science behind it.
I talk about the science of butter, flour, and yeast, how to choose your ingredients, and the best way to use them.
I touch on the most common problems you probably had when making croissants. For example: why are they flat? Why don't you have defined layers? Why is my butter leaking?
You don't need a professional kitchen to make croissants.
In fact, with my course, you can make croissants only with a rolling pin a scale and a ruler ! No machine needed!
Now that I have succeeded in making croissants, I realize I failed because I followed verbatim the recipes written by renowned pastry chefs working in professional kitchens who use dough sheeters, have air conditioning, etc.
Because these recipes have not been adapted to home kitchens, you will lose time and money trying to replicate their recipes with their instructions and turn them into something that cannot be made from home.
In this course, each step of croissant making is explained in detail with a PDF sheet that goes with it.
I touch on how to make croissants without a stand mixer, or a dough sheeter. I also talk about the problems you might have when baking from home like working in a kitchen with a high temperature.
I will give you tips to understand and troubleshoot problems you might encounter. This will save you a lot of time and money, and because you will understand more of the chemistry of a croissant, it will be easier to get more creative with your croissant recipe later on and .
Once you get a grasp of all the elements involved in making a croissant you can produce a croissant with this kind of crumb: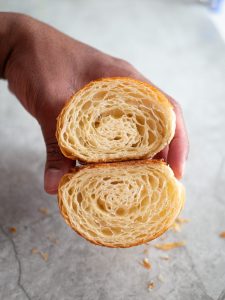 Eventually, I hope to give you the confidence and skills. Even if you have made croissants before, I am sure that you will learn something new from this course.
My goal is to provide you with a space that contains all the baking and scientific knowledge I have accumulated over the years in a short, concise way that will help you save as much time as possible. I want to make sure that you don't make the mistakes I made and save you from having to gather and understand information from books and the internet for days.
See my course as a shortcut to getting your perfect croissants as fast as possible without wasting your energy, money, and ingredients!
The good thing about this course is that you can do it at your own rhythm. You have lifetime access to all the videos and explanations.
With this course you get:
Lifetime access to all content
Billed one time only
Access to FUTURE videos
Downloadable PDF for all recipes
30-day refund policy
If you are keen on joining the croissant adventure with me, hop in!