Summer is here, which means it's time for red fruits !
For this recipe I decided to use strawberries but also an unusual ingredient that we rarely see in pastries: corn!
I find that the slight tartness and vibrant taste of strawberries goes really well with the taste of corn.
Corn can be found in two ways in this recipe, in the financier sponge cake and in a mousse paired with vanilla. Strawberry is present in a slightly gelified confit in the middle of the mousse cake.
I went over the top with the glazing of this mousse cake by using a dual color glaze. One glaze is a classic mirror glaze while the other one is a spider glaze. You do not have to make both if you find it overwhelming. If you have to only choose one of them, make the mirror glaze.
Tips for succeeding:
Strawberry confit:
My strawberry confit is made of fresh strawberries pureed with a hand mixer and gelified with pectin. Find the tastiest strawberries for a great confit ! When making the confit, make sure to immediately add the pectin+sugar once it your strawberry puree start to boil and add lemon right after. Lemon is essential as pectin needs acidity to be efficient.
Corn Financier.
The most difficult part of the financier is the brown butter. Make your brown butter at low heat. I always listen to my butter as it is cooking. When butter cooks, it starts to make a crackling sounds, when your brown butter is ready, the crackling sound will start to stop , the color will become brown and it will start to smell like nuts. Cool down the brown butter immediately by pouring it in a recipient with honey.
Make sure to add your egg whites gently to your batter. You do not want to deflate the air you worked so hard in incorporating.
Mousse:
For the mousse, you have to cook the egg yolks at 179-183°F (82-84°C). If you do not have a thermometer, cook your eggs while always stirring, stop when the mixture becomes thick, and start to coat your spatula. It should look like this.
Make the mousse at the very last moment, when you are ready to assemble the whole cake. If you leave it in the fridge it will be very difficult to use.
Mirror Glaze
The mirror glaze must be applied to a frozen mousse cake. Make sure that your cake has been in the freezer for at least 5-6 hours.
The mirror glaze must be at 86-95°F (30-35°C) when you apply it to your mousse cake. Make sure to mix it with an immersion blender before pouring it on your cake. You can freeze the remaining for weeks!
Final advice:
As always, the main key to succeeding at this mousse cake is to take your time and plan in advance. You don't have to do all the elements of this dessert the same day. You can make the crémeux and freeze it for days until use. Same for the sponge. The only thing that has to be done right before use is the chocolate mousse. I recommend you to do this mousse cake in two days to pace yourself.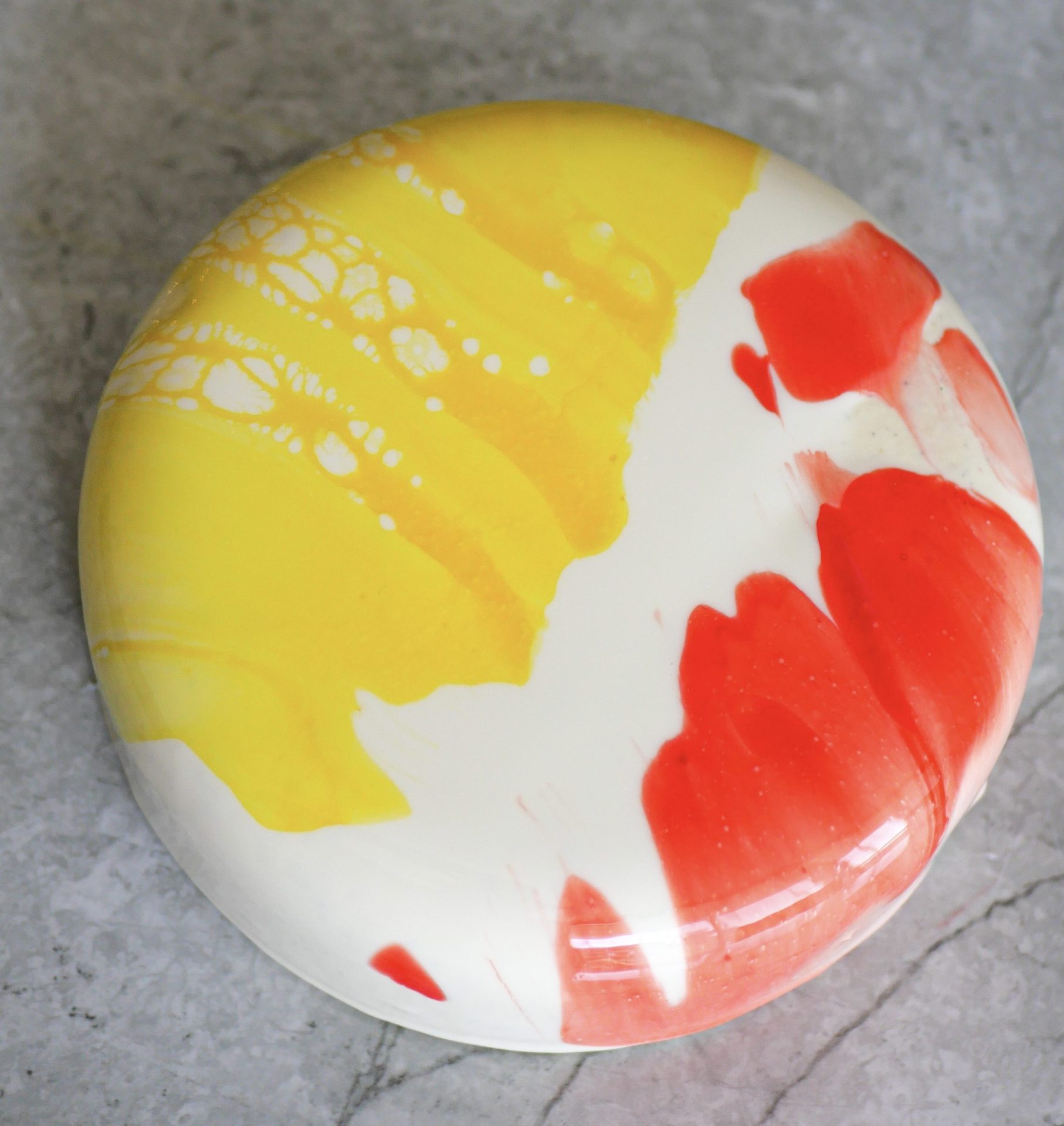 Corn and strawberry mousse cake
Equipment
18 cm large, 5 cm high cake ring or silicone mould

16 cm large and 2 cm high (or higher) cake ring

20 cm large cake pan

hand mixer or stand mixer

saucepan

thermometer

immersion blender
Ingredients
Strawberry confit
250

g

strawberries

15

g

sugar (1)

3

g

pectin

10

g

sugar (2) for pectin
Corn financier
110

g

butter

50

g

honey

35

g

icing sugar

50

g

flour

45

g

corn flour

160

g

egg whites (5 egg whites)
Corn and vanilla mousse
300

g

whipping cream (1)

100

g

milk

half

vanilla bean (or 1 tbsp of vanilla extract

100

g

corn from the cob (or corn for pop corn)

6

g

gelatin 200 blooms

36

g

water for gelatin

40

g

sugar

80

g

egg yolks (5 yolks)

180

g

whipping cream (2)

100

g

mascarpone
Mirror glaze
6.5

g

gelatin powder (200 Blooms)

39

g

water for gelatin

65

g

water (2)

100

g

sugar

100

g

glucose (or white corn syrup)

65

g

condensed milk

100

g

white chocolate
Neutral glaze (spider glaze)
160

g

water

80

g

sugar

5

g

pectin

25

g

sugar for pectin

65

g

dextrose

35

g

glucose (or corn syrup)

1/4

tsp

coloring agent (red and yellow)
Instructions
Strawberry confit
In a saucepan, add the strawberries and sugar (1). Mix them with a hand blender and cook them for 3‑5 minutes at medium heat. Mix together your pectin with 10 g of sugar. This will prevent the formation of lumps in the confit. Remove the saucepan from heat. Add the pectin&sugar mix, add lemon juice and mix well. Put back on heat and cook for 2 more minutes. our in a mold or cake ring smaller than the one for your mousse cake (16 cm diameter) and keep in the freezer until it hardens (around 3-4h).
Corn financier
Preheat the oven to 200°C (400°F).

In a small saucepan, heat the butter over medium-high heat until it melts.

Continue to cook, swirling the pan, until it turns golden, stops crackling and smells nutty.

Remove from the heat and pour into a bowl with honey.

In a small bowl, stir together the corn flour, flour and salt.

In a large bowl, beat the egg whites until foamy; continue to beat, gradually

adding the icing sugar, until the mixture forms stiff peaks. Fold the whipped egg whites in the flour mixture then the browned butter and honey mixture.

Bake at 200C (400F) for 12-14 minutes or until golden brown in a greased cake pan. Let it cool down, then cut off the border to get a 16 cm large sponge cake (you can use the 16 cm ring to do it). Wrap it with saran wrap. You can freeze this until use.
Corn and vanilla mousse
1:Custard

Bloom your gelatin powder with water and leave in the fridge. In a small saucepan, bring whipping cream and milk to a boil with corn and vanilla. Let this infuse for 20 minutes .

Whisk egg yolks with sugar. Pour, (through a sieve to filter out corn and vanilla) infused milk and whipping cream (1) on egg yolks. Whisk and pour everything back to the saucepan. Cook on low heat while continuously stirring until it reaches a temperature of 179-183°F (82-84°C). Remove from stove. add gelatin to saucepan. Pour on a separate bowl and leave in the freezer (for no more than 30 minutes, we just want to cool down the custard.).

2: Whip mascarpone and whipping cream to medium peaks. Fold into the custard gently.
Assembly
Use your 18 cm large cake ring or silicon mould (if you use a cake ring then wrap the bottom of it with saran wrap). The mould or ring should be put on a surface easiliy transferrable to your freezer (cake board or cutting board) Put the corn financier in the middle then pour corn mousse up to half the height of the ring. Add the frozen strawberry confit in the middle then pour more mousse until you fill the cake ring. Put in the freezer for at least 6 hours before glazing.
Mirror glaze
If you use gelatin powder, bloom it with water and let it rest in the fridge for at least 20 min. Put water (2), sugar and glucose to heat until it boils to to 103C (217F). This is very important to reach that temperature, you NEED a thermometer. Pour in a bowl with melted white chocolate, add gelatin then condensed milk. You can also add the food color powder of your choice at this point. Mix with immersion blender. Put a saran wrap on it and keep in the fridge until use.
Neutral glaze
Mix together sugar (2) and pectin in a small cup. In a saucepan heat to a boil sugar (1), water, dextrose and glucose. Add little by little the sugar and pectin mix while boiling. Once all the pectin mix has been added, let it boil for 3 min until everything is dissolved. Transfer your glaze to a bowl and add the food color powder of your choice then mix with immersion blender. For the purple effect that I got, I used a tiny bit of red and a tiny bit of blue food color. Put it aside in the fridge until the day of glazing.
Glazing
Heat up your mirror glaze to 35C (95F). Mix with immersion blender to make sure it is smooth. Heat up your neutral glaze to 55C (130F).Remove the cake from the cake ring. (If it sticks to a metal cake ring, use a blowtorch to make it less cold!).This is when you have to be fast: First pour the mirror glaze onto the mousse side of the cake. Then pour the neutral glaze along a spatula. Smooth the mirror glaze with the spatula coated with neutral glaze. It's the meeting of these two glazes that will create the spider web effect. See my reel for a video of me glazing.Place your cake in the fridge to thaw for at least 10h.