Recently, the chocolate brand Valrhona, famous among pastry chefs, gave me a challenge. They asked me to make a vegan version of a Mississippi mud pie with their new vegan milk chocolate: Amatika.
A Mississippi mud pie consists of a pie crust, a brownie, a chocolate cream and whipped cream on top.
The main challenge for me definitely was the pie crust. How do you make one without butter? Making pastry without eggs is also quite a nightmare.
Fortunately, some alternatives exist.
For butter, I opted for Earth balance butter. This was the one with the most "butter like" taste and texture. For eggs, I opted for "Just eggs" which is an egg alternative made from bung beans. You would not see the difference if I did not tell you they are vegans!
To replace whipped cream , I decided to use Aquafaba. Aquafaba is the liquid that you can find in canned chickpea. This brown liquid, when whipped for a long time, becomes white and takes the appearance of meringue !
The only drawback to it is that whipped aquafaba does not stay whipped for a very long time. Right after you whip it, it has to be piped on the tart and eaten the same day. You can also decide not to use it and have a simple and still delicious chocolate tart.
Hope you enjoy this recipe! You can see a video of the assembly on my Instagram reel here.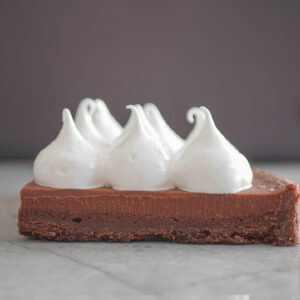 Vegan chocolate tart
Equipment
20 cm tart ring

Hand mixer

mixing blows
Ingredients
Vegan cocoa sugar dough
105

g

Earth balance butter

15

g

valrhona cocoa powder

80

g

icing sugar

25

g

almond flour

190

g

all purpose flour

2

g

salt (half a tsp)

45

g

egg substitute (just egg)
Dark chocolate brownie
150

g

dark chocolate (Manjari from Valrhona)

110

g

Earth balance butter

2

tsp

vanilla extract

60

g

brown sugar

120

g

"Just egg" egg substitute

45

g

all purpose flour

20

g

almond flour
"Milk" chocolate ganache
220

g

coconut milk (15-17% fat)

300

g

Amatika milk chocolate

2

tsp

vanilla extract
Vegan meringue
200

g

Chickpea aquafaba (liquid from canned chickpea)

200

g

icing sugar
Instructions
Vegan cocoa sugar dough
Use the flat beater of your stand mixer to whisk together almond flour, vegan butter, icing sugar, cocoa powder and salt at low speed. Once homogeneous, add egg substitute little by little. Once all egg is incorporated, add flour little by little. Stop right when there are no more dry crumb but do not overmix. If you knead the dough for too long (even with the flat beater!), it can retract during baking. Remove from the bowl. Cover your dough with saran wrap and let it rest for at least 2 hours in the fridge.

 

On parchment paper, spread the 2/3 of your dough until you reach desired thickness(2‑3 mm).  Grease your 20 cm large tart ring. Use your tart ring to cut into the dough, discard the dough outside of the ring.

Remove the remaining 1/3 of the dough from the fridge. On a lightly floured bench, spread it, aiming for a 2-3 mm thickness before cutting 2 cm large bands of it. Line these bands of dough onto the outside of your tart ring and stick them to the bottom of your dough. Transfer the ring with pie dough onto a baking tray. Leave in the fridge for at least an hour. With a small knife, cut any dough that could be sticking out of the ring. Poke the bottom of the dough with a fork.

Bake for 20 min at 170°C (340°F). Remove from the oven, wait 10 min for it to cool down then remove ring.
Dark chocolate brownie
In a small bowl, melt vegan butter with Manjari chocolate on a double boiler. In another bowl, whisk together vegan eggs, vanilla extract and brown sugar. Add melted chocolate and butter to your eggs. Finally, add sifted all-purpose flour and almond flour and whisk.

Pour into your baked tart shell up to 1/3 of its height. Bake the shell with brownie for 8 min at 170°C (340°F). Let it cool down for at least 10 min before proceeding.
Amatika "milk" chocolate ganache
Melt Amatika chocolate on a double boiler. In a small pan, bring coconut milk and vanilla extract to a boil. Pour hot coconut milk onto Amatika chocolate and whisk. Use an immersion blender to perfect the emulsion.

Pour onto the tart shell with brownie. Let the ganache crystallize in the fridge for at least 2 hours or until hard.
Vegan meringue
With a hand mixer or the whisk of your stand mixer, whisk aquafaba with icing sugar to hard peaks (it will become white as well). This should take approximately 7-8 minutes.
Assembly
With a piping bag and a round piping tip, pipe on your chilled ganache.

Keep the tart in the fridge and eat it the same day.

NB: You can do all the steps up to the meringue and keep your tart in the fridge for a day until you pipe the meringue. However, once you pipe the meringue, you must eat the cake immediately.