Brioche
Thank you Life's Simple Ingredient for sponsoring this post!
One of the most emblematic and most liked breads in France is definitely Brioche! Once you get a taste of that very flavorful, buttery bread that melts in your mouth, you won't forget it. 🙂
What I really love about brioche is its versatility; you can it eat it plain, with jam or chocolate spread. One of my favorite things to do with brioche is to cut it in slices to make luxurious, but cheap sandwiches for my family.
Brioche can easily be frozen if you make too much of it. If it eventually dries out, don't worry, you can make absolutely delicious French toast with it for your weekend brunch.
Tips to succeed at making brioche:
Make sure that the butter is at room temperature.
You want to make sure that the butter is soft when you incorporate it into the dough. If not, it is going to be very difficult to knead the dough with your machine.
Use a high-quality flour with a high protein percentage.
Brioche requires gluten to hold its shape despite the large amount of butter in the recipe. The more gluten (protein) you have, the better.  In Alberta, all-purpose flour is of great quality and usually has around 13% protein which is perfect for this recipe. If you live outside of my province, look for a bread flour, they usually have a lot of gluten.
Knead for a long time.
Now that you have a good quality flour, you need to "activate" its gluten. By this, I mean kneading it long enough so that the gluten will create a network that will keep the dough in shape. You know that the brioche dough has been kneaded for long enough when:
the dough does not stick to the bottom of your stand mixer bowl or bread machine anymore,
the dough can be held on to your hand without sticking to them,
and you can extend the dough to the point it becomes see-through (it's called the windowpane test – see picture).
To do this, typically you should knead the dough for about 15-20 minutes with your bread machine or stand mixer.
Use a good butter.
Because there is a good amount of butter in this recipe, I suggest you use one with a good taste. That will influence the taste of your brioche! I also recommend the use of a butter containing a high percentage of fat (82-84%) but this is totally optional.
Proofing time.
Fat (such as butter) tends to increase the time needed for a bread such as brioche to rise. Make sure to let your brioche dough rise for one hour after kneading. Then let it rest for two more hours after you shape it.
Give your brioche some flavor!
I made a plain recipe here, but you can flavor your brioche with vanilla extract (2 tsp), orange blossom water (one tbsp) or any other flavor you like.
You can watch a video on how to make this brioche on my instagrams reels here.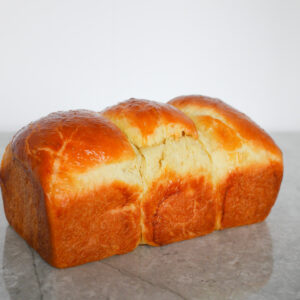 Equipment
Loaf pan (1 pound)

Stand mixer or bread machine
Ingredients
250

g

flour (1 ¾ cup)

3

eggs

1

tsp

salt

30

g

sugar (1 ½ tbsp)

5

g

dry instant yeast (2 tsp)

160

g

butter (2/3 cup)
Instructions
Kneading
In your bread machine or stand mixer, add flour, yeast, eggs, salt and sugar. With the hook, knead the dough at medium speed for five minutes or until it becomes homogenous.

Follow by adding your butter, softened and cut into small cubes, little by little to the dough. Add the next piece of butter only after the previous one has fully integrated into the dough. After you've added all your butter, continue kneading for about 15 minutes or until the dough looks smooth and does not stick to the bowl anymore.

You should be able to can extend the dough with the tip of your finger to the point it becomes see-through (it's called the windowpane test – see picture). That means your gluten network is done.
Proofing
Leave the dough in a bowl for proofing, covered for about 1 hour or until it doubles in volume.

Deflate it and leave in the fridge for 30 minutes to make it easy to manipulate. You can also keep it in the fridge and continue the next day at this step.

Divide your dough into three equal parts (200g each). Roll each part with one hand between your fingers to smooth them out. Place into a greased loaf pan and let this proof, covered, for about 2 hours. Your dough will double in volume.

Beat an egg and use it to brush the top of the brioche dough just before baking.

Bake for 25min at 340°F (170°C).