Before the summer ends, let's make the most of it and use raspberries. This time I paired them with coconut!
I grew up in a household where coconut was very important. Where my parents are from, the Comoros, you can find coconut trees everywhere. Comorians use coconut in a lot of dishes; sweet or savory. When I used to go to Comoros for vacation, my uncle would always bring us fresh coconut for breakfast. That sounds like a dream, except that, I did not like coconut as a kid! It's only as an adult that I started to appreciate its strong but delicate taste.
For this entremets,  you will find coconut in a mousse made with Italian meringue.
A raspberry confit will add a fruity, slightly acidic touch to this dessert.
For the sponge, I decided to use a financier sponge cake. It's made with almond flour and brown butter that adds a nutty taste to it. It's the perfect sponge to use if you have too many egg whites in the fridge as it does not need yolks at all!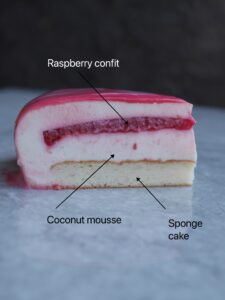 Finally, the cake is covered with a dual-color mirror glaze! It seems fancy but it's actually just one mirror glaze divided into two equal portions, each one colored differently.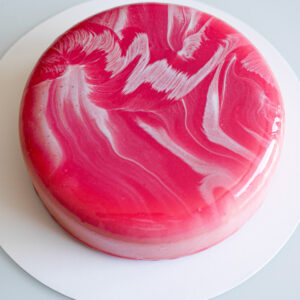 Raspberry and coconut mousse cake
Equipment
18 cm large, 5 cm high cake ring or silicone mould

16 cm large and 2 cm high (or higher) cake ring

20 cm large cake pan

hand mixer or stand mixer

saucepan

thermometer

immersion blender
Ingredients
Raspberry confit
200

g

raspberries

30

g

sugar (1)

4

g

pectin

10

g

sugar (for pectin)

1

tbsp

lemon juice
Financier sponge cake
50

g

honey

110

g

butter

160

g

egg whites (5 eggs)

50

g

icing sugar

50

g

flour

50

g

almond flour
Coconut mousse
400

g

coconut cream

10

g

gelatin

60

g

water (for gelatin)

30

g

water (2)

1

egg white

60

g

sugar

200

g

whipping cream
Mirror glaze
13

g

gelatin powder

I use gelatin powder, use the same amount for sheets

80

g

water for gelatin

130

g

water (2)

200

g

sugar

200

g

glucose

(or corn syrup)

130

g

condensed milk

200

g

white chocolate
Instructions
Financier sponge cake
First, we will make brown butter. This is optional (if you don't feel like it, you can just melt the butter) but I find that brown butter adds a nice nutty flour to your sponge. Cut your butter into small pieces and put it in a saucepan. At low-medium heat, melt the butter on the stove while stirring constantly until the butter changes color and starts to get a nutty smell. Don't get too far away from your butter, otherwise, it will burn! Pour into a bowl and add the honey onto it. Honey will help the butter go down in temperature.

In a separate bowl, whisk together flour, almond flour, and a pinch of salt.

Whip your egg whites to soft peaks with icing sugar. Add them to the flour mix gently, little by little, with a spatula to make sure the whites won't deflate.

Add the melted butter + honey to the mix.

Pour in a cake pan. Bake for 15 min at 200°C (392°F) or until golden brown.

Let it cool down, then cut off the border to get a 16 cm large sponge cake (you can use the 16 cm ring to do it). Wrap with saran wrap and leave it in the freezer.
Raspberry confit
In a saucepan, add raspberries and sugar. Mix them with a hand blender and cook for 3‑5 minutes on medium heat. Add the pectin&sugar mix along with the lemon juice, and cook for 2 more minutes. Pour onto the 16 cm cake ring filmed with saran wrap. Wait until it cools down before storing it in the freezer.
Coconut mousse
Bloom the gelatin with water then leave in the fridge for at least 20 minutes.

Heat up 100 g of coconut cream to a boil and add the gelatin into it. Pour in a large bowl with the rest of the coconut cream and set aside.

Put your egg white into a small bowl (there should be some room for it to be whipped).

Heat up in a saucepan water (2) and sugar. You should bring them to a temperature of 121°C (250°F). This is very important for the texture of the mousse, and also because it will cook the egg white.

While your sugar and water are heating up, start whipping your egg white with your hand mixer until it gets foamy.

While whisking with the hand mixer, pour the sugar+water mix into the egg white. Keep whisking until you get a meringue.

Whip your whipping cream to soft peaks.

Add your meringue to the coconut cream mixture, followed by whipped cream.
Cake assembly
Use your 18 cm large cake ring or silicon mould (if you use a cake ring then wrap the bottom of it with saran wrap).

In the middle, put the financier sponge.

Pour just enough coconut mousse in the mold up to 1 cm above the sponge.

Add the raspberry confit.

Add mousse until the top of the cake ring.

Leave in the freezer for at least 6 hours.
Mirror glaze
If you use gelatin powder, bloom it with water and let it rest in the fridge for at least 20 min.

Put water (2), sugar and glucose to heat until it boils to103°C (217°F). This is very important to reach that temperature, you NEED a thermometer.

Pour in a bowl with melted white chocolate, add gelatin, then condensed milk. You can also add the food color powder of your choice at this point. Mix with an immersion blender. Put a saran wrap on it and keep it in the fridge until use.
Glazing the cake
Heat up your mirror glaze to 35°C (95°F). Mix with an immersion blender to make sure it is smooth.

Separate your glaze into two containers. In one container, use red food coloring, in the other one use white food coloring.

Pour the white mirror glaze on the side of the container with the red mirror glaze.

Pour the red and white mirror glaze on the frozen cake.

Place your cake in the fridge to thaw for at least 8h.